REFLEXION | NOIXELFER
The transformation of three wall segments of the Berlin wall
An art performance by 3Steps in Part of the River Tales Project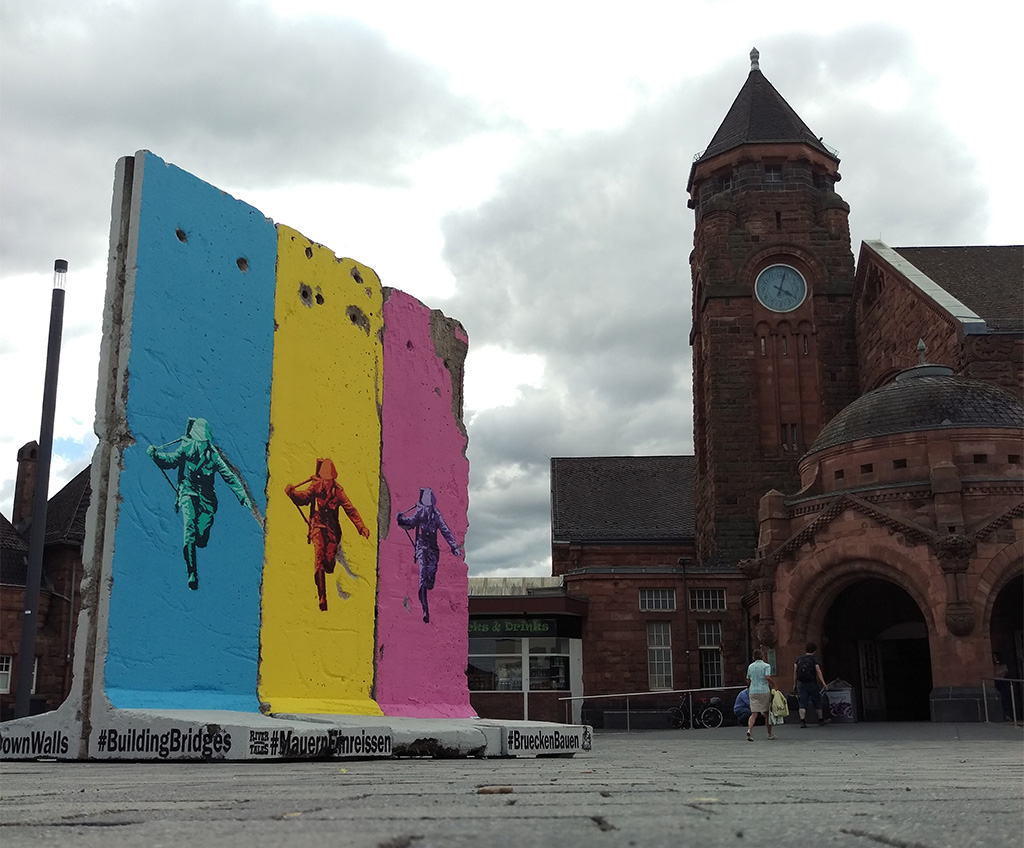 Bild: REFLEXION | NOIXELEFER Sprung in die Freiheit – 15.08.2105 (Courtesy of 3Steps)

After an three quarters year planning time we started our REFLEXION | NOIXELFER Berlin wall project in august 13 this year. Since then lots of things happened in part of the project that we won't withhold you.
. Three Berlin wall parts are used for our transformation process for the resolution of walls and borders. By symbolic imagery as well as experienced and palpable art performance the walls in our heads and also the real walls shall be shown that we can bring them down. The performance starts in our hometown Giessen which was used to be address for DDR-refugees and now Giessen absorbs refugees from the whole world. The Berlin wall parts shall be understand as medium for consisting walls between nations, folks and cultures as well as the walls in our minds. Aim of this is to tear the walls and to build bridges between humans of different origins and cultures. The first art performances are inspired by the content and the temporal reference of the German history like the Berlin wall. More performances will appear in the coming days and weeks.
According to the quote of the German philosopher Andreas Tenzer "The most bridges are built by the stones of fallen walls" we apply to the humans for a sustainable together.
REFLEXION | NOIXELEFER Projektwebseite
More detailed information information including reports, pictures and previous phases of the project are coming up in the next view days at the project websiteProjectwebseite:
http://www.flussgeschichten.de/kunst-projekt/reflexion/
Our performances are contemporary available on our social media accounts:
Facebook https://www.facebook.com/3Steps.de
Instagram https://instagram.com/3Stepscrew/
A big thank you to the lord mayor of Giessen "Dietlinde Grabe-Bolz" and the cultural office manager "Simone Maiwald" for the project realization and the uncomplicated support in Stadt Gießen.
We also thank Christian Rinn and his team of the company RINN Beton- und Naturstein GmbH & Co. KGfor the prime logistic support of the project.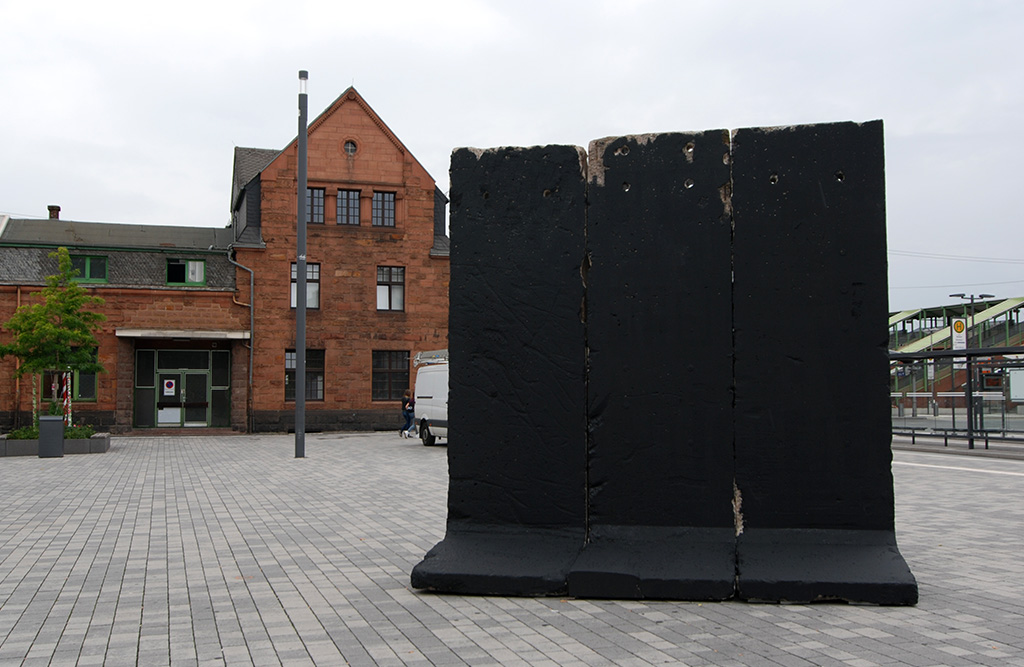 Bild: REFLEXION | NOIXELEFER Black Monday – 24.08.2105  (Courtesy of 3Steps)
A selection of presse reviews to the project:
»3steps«-Kunstprojekt zur Berliner Mauer | Gießener Allgemeine | 31.08.2015
Die Segmente der Berliner Mauer am Gießener Bahnhof verändern ihr Aussehen | Gießener Anzeiger | 31.08.2015
Berliner Mauer am Bahnhofsvorplatz im Wandel | Gießener Allgemeine | 28.08.2015
Geheimnis um Mauerteile vor Bahnhof | Gießener Allgemeine | 14.08.2015
Berliner Mauer auf Gießener Bahnhofsvorplatz: Aktion zum Jahrestag des Mauerbaus | Gießener Anzeiger | 14.08.2015