Projekt159 | Eine Region – Eine Bank – Eine Wand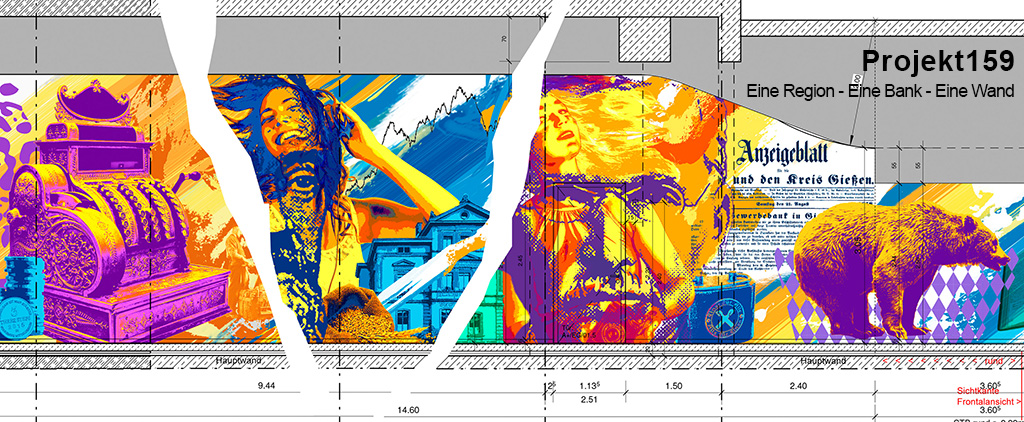 Dear friends of 3Steps we need your support!
For our next big project Projekt159 with the Volksbank Mittelhessen we created three designs of which ONLY ONE can be painted on a 159 squaremetres large wall in October. You can vote by www.facebook.com/projekt159.
You don't need to own a facebook account. Furthermore you can win great artworks and a meet & greet for an afternoon and paint and grill with us!
Call up all your friends and their friends – because in return of every vote the Volksband Mittelhessen donates 159 cents to the Atelier23. Here people with handicap or disability can live up their art!
Become a part of the project!
What the Projekt159 deals about you get to know here:
#projekt159 stands for new and unique art on architecture in Hessen | Germany. In cooperation with the artistscollective 3Steps an impressive, large artwork will be created at the extension of the Volksbank Mittelhessens' service center. Yesterday evening Dr. Peter Hanker introduced the project to invited guests at the Volksbanks' forum. Afterwards the three artists explained their motivations and intuition of the motives.
The artwork reaches 159 Squaremetres of cement. It gets the regions' identy und the Volksbank Mittelhessens' history artistically together. Following the cooperative thoughts of participation, the Volksbank provides for election three motives under the motto "One region. One bank. One wall.".
Yesterday evening was the four-week voting phases' starting shot. Members, costumers and people interested in arts have the opportunity to vote for their favorite design on www.facebook.com/projekt159. Per given vote the Volksbank Mittelhessen donates 159 cents to the Atelier23, an artistic organisation from the Lebenshilfe Gießen e.V. for people with handicap (maximum donation amount 10.000 euro) .
Furthermore there is a winning chance for every participant for a meet & greet with the artists of 3Steps. The winners and their families or friends spent the whole afternoon with the three artists, work at the projekt159 and are able to become a part of the final artwork. Following they can finish off the day relaxed with some grilling.
Each of the designs contains persons, events, objects and buildings of the Volksbank Mittelhessens' history. The different collages contain different techniques of street art, pop art as well as the abstract and graphical art of 3Steps. The background is characterized by a rising play of colours which adds dynamic and size. The painted elements are bursted by transparent and overlapped by colourful animal and fashion patterns. Central figures are Friedrich Wilhelm Raiffeisen (1818 – 1888) and Hermann Schulze-Delitzsch (1808 – 1883), the german cooperative systems' founding fathers.
The region Mittelhessen is represented by old maps and views of the cities Friedberg, Giessen, Marburg and Wetzlar.
More information under:
www.facebook.com/projekt159
https://www.vb-mittelhessen.de


Bild: Detailausschnitte aus den drei Entwürfen zum Projekt159 (Courtesy of 3Steps)