We invite you to our soloshow for the 3. "Kunst in Licher Scheunen" Art-fair
"Welcome to Milvus County"
Sa. 12.09.2015 | 11 – 20 Uhr | Artist talk 12 am, 2pm and 6pm
Su. 13.09.2015 | 11 – 18 Uhr | Artist talk 2pm
location: Alte Wurstfabrik Dietz | Heinrich Neeb Straße 32 | 35423 Lich, DE | Entrance behind the courtyard left
Under the showtitle "Welcome to Milvus County" the artists collective 3Steps takes you into the colorintensive world of street art. The old Sausagefactory of the Dietz fammily is the ideal location for urban art in connection to "Kunst in Licher Scheunen". The collective shows delicate works in spraypaint and print on wood and paper as well as large-sized installations. Visitors can buy uniques, screenprints and handmade editions of the collective direktly on location.
Artiststalks with the 3Steps collective during "Kunst in Licher Scheunen" are on: Sa. (12.09.2015) 12pm , 4pm und 6pm and Su. (13.09.2015) 2pm.
For questions of all kind including questions about buying and works please go to mail(at)3Steps.de.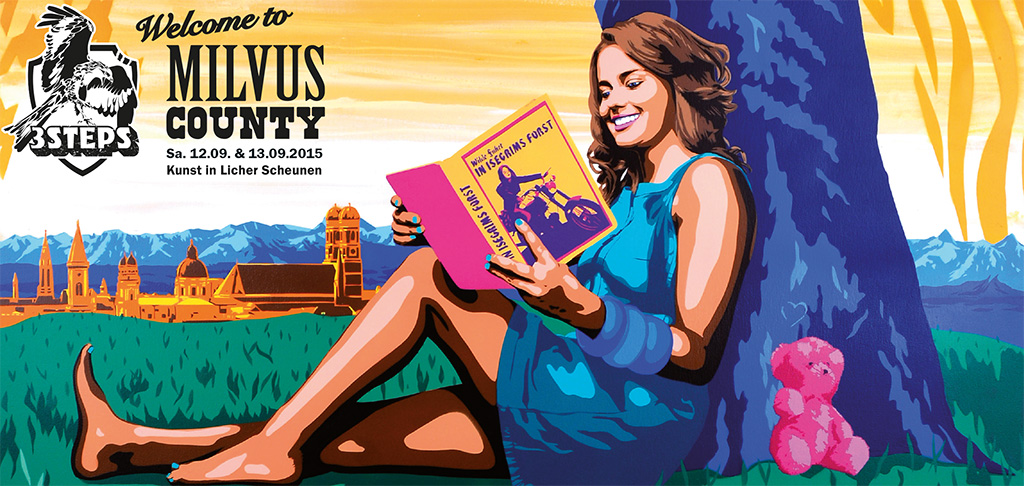 picture: Part of the unique "under the big tree" (Courtesy of 3Steps)
"Kunst in Licher Scheunen"
"Kunst in Licher Scheunen" (Art in licher barns) returns for a third time. Works of contemporary artists of diffrent genres are shown in old barns, a cellar, an old mill, two depots, a former coopersworkshop, the freight shed at the trainstation, the old indoor riding hall, a boiler house, the production room of an old sausagefactory and the brewery.
Experience the intressting contrast between modern art and old building. the artists will be mostly present and also sell their works. The program is curated by dr. Erhard Roth.
The show will start on saturday the 12th of september at 10:30am at the licher freighttrainstation and will be opend by dr. helge braun with musical backing by Hans-Jörg Ebert (Member of the three voices).
More information under www.kunst-in-scheunen.de