Dear Friends of 3Steps,
Things are going haywire at the moment. With this beautiful sunshine out there we are happy to tell you one thing or another. Without a big introduction, our new Exihibition-catalog "3Steps: Ahead!" was released in April. You can order the Book online, get direktly in our Gallery or in our online shop.
The craziest thing of the last few days though, was this: We are among the winners of the StartUpWeekend Space Bremen 2015!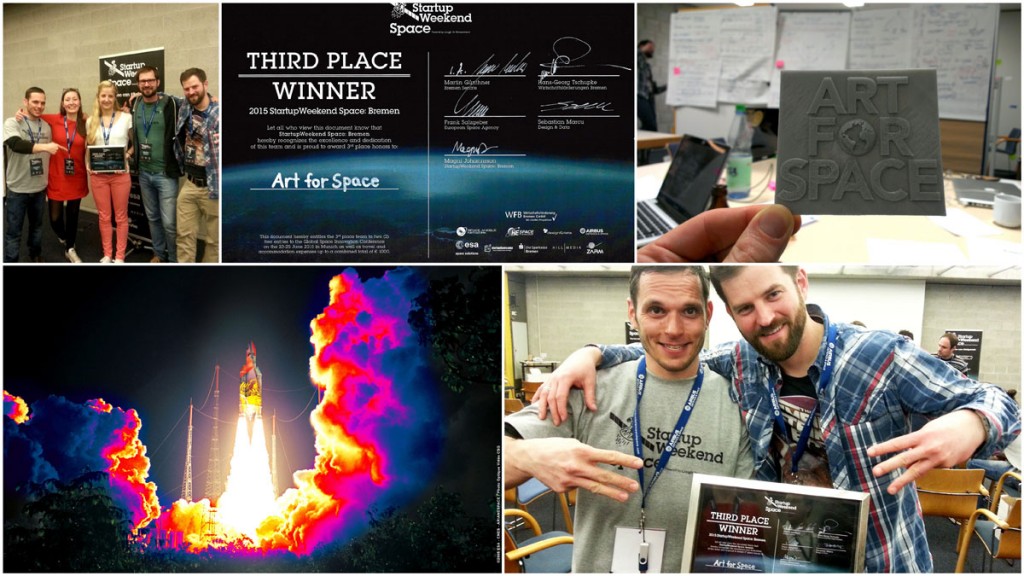 Photos: 3Steps, ART FOR SPACE und ESA/CNES/ARIANESPACE-Service Optique CSG
Last friday we followed the invitation of the Competencecenter culture- and creativeindustries and the u-institute to the StartUpWeekend Space Bremen. Not knowing what to expect among all these space-engineers and rocket-scientists we made are way to Bremen on friday morning at 5 am to the center of european space-agencys and space-industry.

Since we were little and since the first Star Wars was released on VHS we were big fans of spacetravel and the outerspace. Fittingly, on the 54. anniversary of Juri Gagarins earth circulation – We made 3rd place with our idea Art for Space, wich is all about art, space and the earth. It was a crazy weekend with our five-headed team, consisting of Markus (Rocket Scientist), Philomena (Media Director), Wendy (Graphic Designer), Joe (3Steps) und Kai (3Steps), as well as other participants, mentors and guests of the StartUp Weekend.
Andy Warhol, Damien Hirst and Space Invader –their art has already travelt to outer space and we want to open that way for as many artists as possible. We are greatly exited to be among the Top-three of StartUp-ideas with our extraordinary topic for the space industries.
You can learn more about our projekt Art for Space in the coming month. Untill then follow us on facebook.com/thisisartforspace or visit www.art-for-space.com.
In the following we present to you a snippet from the official press-release. below that is a comment of Kai to the event and the award.
#BeSpacial, yes #ThisIsCrazy and #ThisIsArtForSpace!
yours truly,
3Steps
StartupWeekend Space: Bremen 2015 | Press-Release
StartupWeekend Space: Bremen, an event that was designed to create lean startup concepts through interdisciplinary cooperation, officially announced three winning teams on Sunday.
The first-of-its-kind event in Europe took place at the "Bremer Innovations- und Technologiezentrum BITZ" between the 10th and 12th of April. The first, second and third ranked teams were awarded with prizes that shall help them advancing their presented business concepts.
First place was won by the team USB-I, which has designed a universal adapter to connect a vast number of payloads with every type of satellite bus systems. This shall enable significant cost savings in the production of satellites and space systems. From the judges' point of view, the team presented a strong product and a scalable business model.
USB-i has won coaching from Claudia Kessler, CEO of HE-Space. Over the course of 12 months, she will support the team in business proposal writing and business formation. Following these 12 months, Chad Anderson, Managing Director of Space Angels Network, will take over. He will prepare the group to present their business plan to promising investors.
The second place prize was won by the team satsearch. The team developed a search engine for space electronic components to support space engineers with the search for suitable components during the hardware development. As the second-placed team, they have won a one-day presenting and on-camera training course with Hill Media in Bremen. Additionally, the team will have the opportunity to pitch their idea in Berlin at "Startupbootcamp Smart Transportation & Energy Accelerator Speed Summit" and to join the accelerator program for a week.
Third place went to the team Art For Space. Art For Space shall promote awareness of the environment and space while supporting local artists through a new cultural partnership. Artworks shall be flown in space, and be sold at art auctions after their return. The European Space Agency (ESA), together with the International Astronautical Federation, has donated the prize to be received by the third place team. Two members of the team will participate at the Global Space Innovation Conference (GLIC 2015) in Munich. There, they will be able to connect with other participants and employees of the ESA Business Incubation Center (BIC).
StartupWeekend Space: Bremen was a complete success, for the participants as well as for the organizers and sponsors. The demand for tickets was very high, with all 80 tickets selling out well in advance. The registered participants came from 13 countries in Europe and represented 18 nationalities, among them Germany, Australia, Brazil, India, Mexico, Russia and the United States. For many participants, this cultural diversity contributed to the success of the event and in the development of innovative and groundbreaking business ideas. 27 business ideas were pitched in total, from which 11 business concepts were generated and presented to the judging panel. All of the teams enjoyed the creative atmosphere in BITZ and some even worked through the night to refine business models, produce websites and print 3D prototypes within those three days.
Among the notable guests who participated personally or via video connection were Bremen's State Council of the Senator for Economic Affairs, Employment and Ports, Dr. Heiner Heseler; the head of the Technology Transfer Programme from ESA, Frank Maximilian Salzgeber; the founder and CEO of Mansat, Christopher Stott, the co-founder and technical lead of Planet Labs, Chris Boshuizen; and the founder and CEO of Zero2Infinity José Mariano López-Urdiales.
Click here for more information about the event. You can also gain an overview of the social media impressions of the event with the hashtags #BeSpacial and #SWSpace. Additionally, there is a complete recording of the event's highlights as a livestream.
StartupWeekend Space: Bremen was supported by the City of Bremen, Airbus Defence and Space, HE-Space, Design & Data, Space Angels Network, ESA, Startupbootcamp Smart Transportation & Energy, Hill Media, Center of Applied Technology and Microgravity (ZARM) and by Up Global, a nonprofit organization with headquarters in Seattle, which connects a global community of enterprises across all topics and is considered as pivot of the space industry.
Direct quotes:

Ran Qedar from team USB-i (Winner of the first prize) rejoices over the prize and describes the StartupWeekend Space as a fantastic experience:
"StartupWeekend Space in Bremen presented me and my team a great opportunity to combine two of our passions: Space and Innovation. We had an exciting time learning from industry experts and connecting to other space enthusiast. I would personally recommend anyone who has a space dream to join the next event and make it a reality. We thank the organizing team for their work and the judges for selecting us to be the most promising startup of this event. We look forward to be coached on developing a business model by Ms. Kessler of HE Space and to be given a chance to present to investors with Chad Anderson of the Space Angels Network."
Dr. Kai Krieger from team Art For Space (Winner of the third prize) is delighted that he, as a participant without a background in space, was able to thrill participants and jury with his idea:
"I would have never thought that I, as an artist, could move something at the StartupWeekend Space, not to mention winning a prize. I pitched my idea on Friday and was completely surprised to be chosen. Following that, together with my team, we gave our best to develop a viable business concept from the original idea. It is unbelievable how much you can achieve during a single weekend. It was a fantastic experience which I can warmly recommend to anyone. We will continue working on Art for Space."
Manfred Jaumann from Airbus Defence and Space (Judge and sponsor of the event) was positively surprised by the quality of the presented business models:
"All presented business models without exception had a high quality. If you consider that the participants just had two days to organize themselves as a team, this is a remarkable performance. We as jury did not have an easy task selecting the three best business concepts.
Overall it was an awesome event and a great initiative. My compliments to the organizers. I hope there will be a sequel."