We wish you a great late summer,
that is hopefully showing you its best side. In our summer Art Telegram 2016 we want to inform you about upcoming news and projects.
Yours truly 3Steps
Launch 3Steps Online Store on 09.09.2016
New Screenprint "The Medical Scientist" | Presale Book "Milvus County"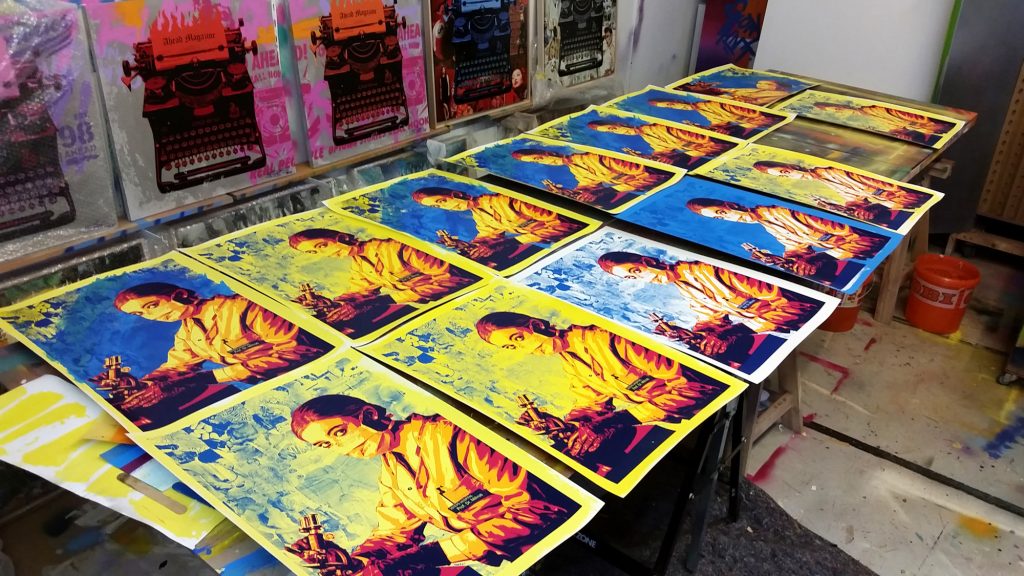 To 09.09.2016 our new online store will open under 3StepsStore.com. Amongst other things the online release of our new screenprint "The Medical Scientist" awaits you. The print was was made in three different variations. The "Classic Edition" is available in an edition of 39 pieces. The "Medical Scientist" is made with acrylic paint and a four color printing on Hahnemühle 300g paperboard by hand in our studio. The background of each print is handpainted and therefore unique. Next to this new print edition more limited screenprint editions as well as unique works are directly available in the store.
We are currently in the final production phase of our new book "Milvus County". A 144-page hardcover Monopraphie in an edition of 500 pieces. 333 of them are exclusively hand-numbered and signed. The book is published by Heyligenstaedt Giessen on 06.10.2016 at the vernissage of our show at the Hotel & Restaurant and is available in advance via the Online Store 3Steps in presale.
Online-Shop: www.3StepsStore.com, from friday, 09.09.2016 | 18:00 Berlin time (CEST), 12pm NYC time (EST), 8am PST
New exhibition: Art in Licher Barns & heyligenstaedt Giessen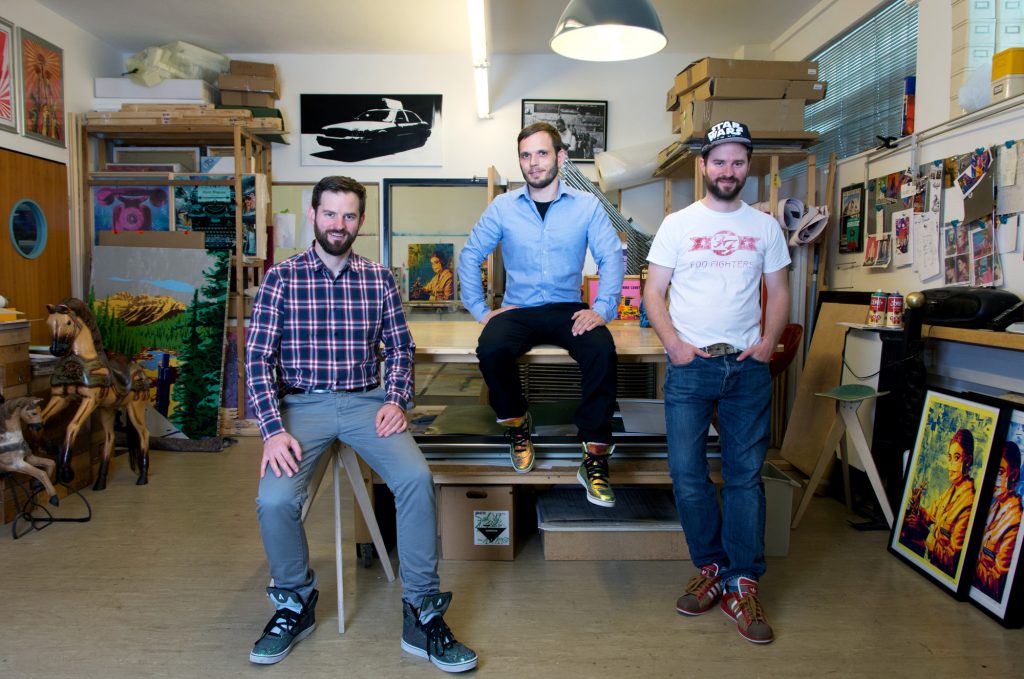 We are pleased to  announce to you two new exhibitions in September.
Prints and Originals | Art in Licher Barns | September 10th and 11th 2016
Following the successful "Welcome to Milvus County" exhibition last year we will again be presenting our new Exhibition at "Art in Licher barns" this year on september 10th and 11th. This year we will be presenting the Heritage Day handmade editions, serigraphs and selected uniques in the boiler house of the old sausage factory Dietz.
– 3Steps are present
– Presentation of our new screenprint "The Medical Scientist"
Location:
Kesselhaus
Alte Wurstfabrik Dietz
Heinrich-Neeb Str. 32
35423 Lich
Opening hours:
Saturday 09.10.21016: 11:00 am til 8:00 pm
Sunday 09.11.2016: 11:00 am til 6:00 pm
Art in Licher barns
Past and Present | Hotel & Restaurant heyligenstaedt Giessen | October 6th
On  10.06.2016 we would like to invite you to the opening of our exhibition "Past and Present" in
Hotel & Restaurant heyligenstaedt Giessen.
At the vernissage we will be presenting to you our new limited edition book "Milvus County".
The book takes you on a journey through a whole year of 3Steps. A journey through our wok in studio, a journey through our visual worlds and a journey to the realisation of our vision. This book covers the period from spring 2015 to summer 2016, three solo shows, two large Mural Art projects, small smearings and and lots of colorful splashes as well as our conceptual work REFLECTION.
More on 06/10/2016, we are looking forward to seeing a large turnout.
Exclusively on this night there will be a dinner with us at the Heyligenstaedt restaurant.
Dinner is à la carte. Each guest pays for themselves. If you want to reserve a table please call +49 641 4609650 or write to info@restaurant-heyligenstaedt.de.
Vernissage | Thursday 10.06.2016 | 6:00 pm
– 3Steps are present
– Release of the new limited and signed 3Steps book "Milvus County"
Location:
Hotel & Restaurant heyligenstaedt Giessen
Aulweg 41
35392 Gießen
www.restaurant-heyligenstaedt.de/
Telephone: 0641-4609650
UNICEF #sprayforpeace | Final Projekt159 | Ambassador for cultural and creative industries | Reflexion Episode 2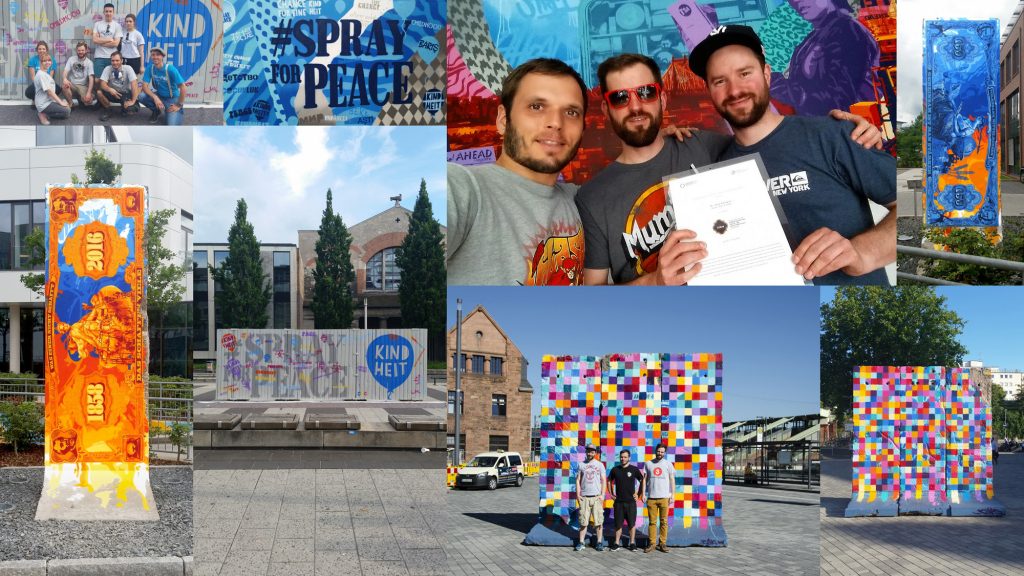 UNICEF #sprayforpeace
This spring we conceptualized and realized with UNICEF Germany the Street Art Art Performance #sprayforpeace and social media campaign. The performance started as part of the UNICEF Youth Festival 2016 in Nuremberg on June 4th, with 150 participants. Following the campaign we released a street art booklet with a stencil template and creative street art tips.
The background: On a global level there have never been so many children in search of refuge as today.
With #sprayforpeace we want to draw people's attention to the emotional distress of children in war and on the run and convince them to stand up for these children in cooperation with UNICEFF. We can change the situation together – #sprayforpeace!
A lot of information, pictures gallery and downloads #sprayforpeace found under
Follow #sprayforpeace on Instagram Instagram #sprayforpeace
and on Facebook UNICEF Youth Deutschland
Projekt159 | Project Finalisation
On June 22, the new service center Volksbank  Mittelhessen was inaugurated. In the grounds our new work values of a bank can be visited. Two non-monetary bills were painted on an original Berlin Wall segment. The visible parts of steel were cast in transparent resin. Pictures to the work can be found in our online gallery Projekt159.
More Information under Projekt159
For Projekt159 we produced an exclusive silkscreen Edition for Volksbank  Mittelhessen and created a picture book is published by the bank.
Botschafter für Kultur- und Kreativwirtschaft des Bundes
Kai from 3Steps was appointed "Fellow | Ambassadors of culture and creative industries of the federal " on June 7th in Berlin. As a so-called Fellow Kai supports the works of the "Competence Centre for Cultural and Creative Industries of Germany" and the "Initiative Culture and Creative Industries of the Federal Government". He is to represent his region, link other creatives and identify and use trends.
In the past year Kai was already invited as speaker to artist talks, panel discussions and theme nights for the cultural and creative sectors nationwide. Now he can take the next step through this newly organised network from Berlin.
More information under Competence Centre for Cultural and Creative Industries of Germany.
A gallery of pictures from the day in Berlin: Faces and stories of the culture and creative industries.
REFLECTION Episode 2
In March, April and August this year, we have made a new transformation of the Berlin Wall parts at the main station in Giessen. In the three designs The Planet – The Nations – The People we are dealing with the globalization of our planet and the current war and refugee situation. According to the quote from John F. Kennedy "For, in the final analysis, our most basic common link is did we all inhabit this smallplanet. We all breathe the same air. We all cherish our children's future.  And we are all mortal."  began the work about the creation of our planet on april 20th. On march 29th we painted colorful stripes on the Wall segment representing the nations, cultures and relegions on this planet whose goal it should be to live in peace and harmony. In the final design on august 17th 2016 we changed the stripes into a puzzle of colorful sqares, each of wich represents the many diffrent people with diffrent heritage and skincolor. Giessen and this world stay colorfull.
Mor information under Reflexion
The artist collective 3Steps
3Steps (est . 1998 ) is the collective of the twins Kai H. Krieger and Uwe H. Krieger and Joachim Pitt. The works of 3Steps have developed from Mural Art and Street Art. Bright colors and the reflection of a modern society express the intention of the three friends. The work of the collective could be found in many countries over the world and have been published in numerous international magazines and books. After their studies at university, the three friends founded their new studio in 2012. Since then 3Steps are focusing on new content and works. The award-winning collective was awarded in November 2014 by the Federal Government of Germany.
3Steps @ Wikipedia
Facebook https://www.facebook.com/3Steps.de
Instagram https://instagram.com/3Stepscrew/