Welcome to Fall!
A great time of year with lots of changes in the alternation of natur, colorful Trees, misty meadows, rainy days and sunny hours.
In the course of the coming days we will finish our last big Mural-Art project of the year, before we retreat to our Studio in preparation for the art KARLSRUHE 2017.
But before this year ends, we present to you on the 11th of Novemberwithin the frame of a Vernissage, our new book MILVUS COUNTY!
All further information on these Highlights in our FALL ART TELEGRAM with the following contents
We look foreward to seeing you!
Yours truly 3Steps.
Vernissage: Past and Present @ HOTEL & RESTAURANT heyligenstaedt Giessen | November 10th
On the 10th of November of this year we would like to invite you to the opening of our exhibition PAST AND PRESENT in the HOTEL & RESTAURANT heyligenstaedt in Giessen
There we present to you some of the works of this year additionally to a few classics. All works are available for purchase.
Exclusivly on this night there will be a dinner with us in the restaurant Heyligenstaedt.
Dining will be à la carte after the Vernissage. Every guest at their own expense. For those who would like to reserve a table please call 0641–460 965 0 or send a mail at info@restaurant‑heyligenstaedt.de.
Vernissage | Thursday November 10th 2016 | 6pm
– 3Steps will be present
– Presentation and exclusive book-signings with small sketches of the new book MILVUS COUNTY (between 7pm – 8pm).
location: HOTEL & RESTAURANT heyligenstaedt Giessen
Aulweg 41
35392 Giessen, Hesse, Germany
www.restaurant-heyligenstaedt.de/
Telephon: 0641-4609650
Digital Invitation as PDF to forward: 3Steps-Einladungskarte-heyligenstaedt
Book puplication 3Steps monography MILVUS COUNTY
On november 10th of 2016 our new monography MILVUS COUNTY twelve months of 3Steps contemporary art projects in 2015-2016 will be puplished.
This book will take you on a journey through a whole year of 3Steps. A journey through our work in studio, a journey through our visual world and a journey through the realisation of our visions. It includes the time from spring 2015 through summer 2016 with three soloshows, two big Mural projekts, smaller smearings with lots of color-splashes as well as our concept-piece REFLEXION.
Included are almost all paintings, prints and istallations from 2015 through mid 2016. From the contents: Street Art, the Werther Mural on the museums of Wetzlar, REFLEXION, Welcome to Milvus County soloshow at the "Art in Licher Barns", Heard on the Street Soloshow in the 2CforArt Gallery Salzburg, Fields of Memories soloshow in the Wetzlarer Art society, Art in architecture with the Projekt159 of the Volksbank Mittelhessen as well as a peak into the studiowork of 3Steps.
The hard-cover-book encompasses 144 pages with large pictures and numerous texts by Dr. Katja Marek (Arthistoric), Dr. Anja Eichler (Mangagement Wetlarer Museums), Dietlind Grabe-Bolz (mayor of the city of Giessen), Paul-Martin Lied (media spokesman of the "Art in Licher Barns"), Gert Heiland(Curator and 1.chairman of the Wetzlarer Artsociety) and 3Steps in both german and english.
The bookproject was supported by the Hessian Ministry of Sience and Art, the city of Giessen and the city of Wetzlar. We thank them very much for their support. Furthermore we thank our team and everybody who contributed to the finishing of this book.
1. edition – 500 copies, 333 signed and hand-numbered
144 pages in color and black and white, german and english
climate-neutral print on paper from sustainable sources by gruendrucken in Giessen, Germany
3Steps press, Bleichstr. 35, 35390 Gießen
ISBN: 978-3-945991-91-6
This book was made with love in Mittelhessen!
MILVUS COUNTY is as of now available over the 3Steps Online Store in presale!
Online-Shop: www.3StepsStore.com
The book will be exclusivly presented in a personal book-signing on the 10th of november during our vernissage in the HOTEL & RESTAURANT heyligenstaedt.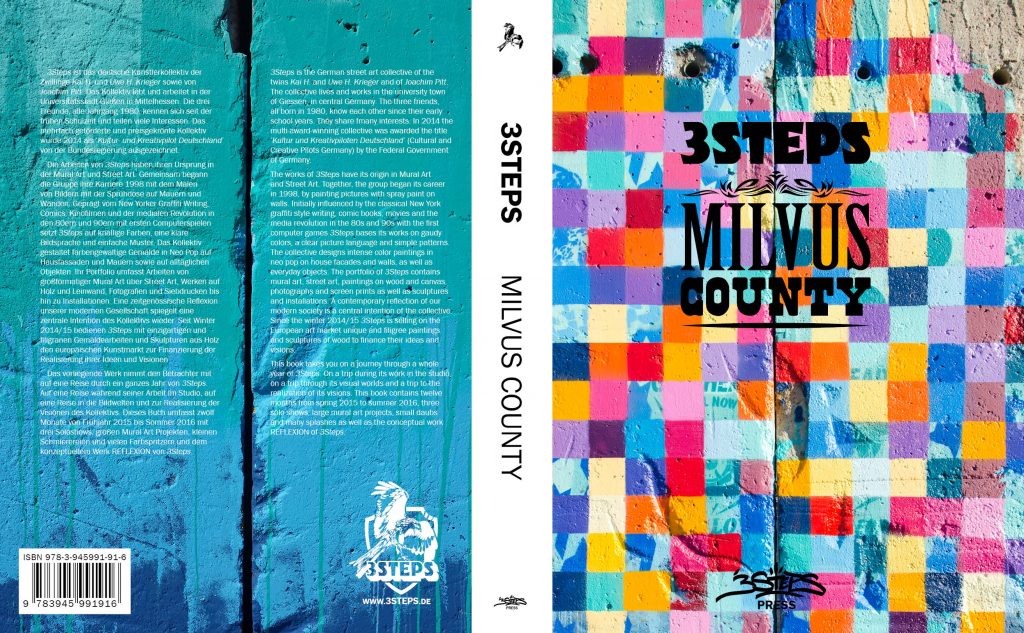 2CforArt Gallery presents 3Steps soloshow @ art KARLSRUHE | 16th through 19th of february 2017
This comming february our representing gallery in Salzburg (GE) 2CforArt will for the first time present our work at the art KARLRUHE. In a one Artist soloshow we will present new works on over 50 square meters.
It is an honor for us, to be taken on for a soloshow by the curators of the art KARLSRUHE after only two years on the gallery-market. This is meaningful step for us but also a new challenge.
The art KARLSRUHE belongs to the most important artfairs for classic- and contemporaryart in the european area. Expirience on the art KARLRUHE as collectors, art lover or connoisseur the high-quality range of more than 200 nationally and internationally renowned gallerys. The art KARLSRUHE is the biggest artfair in the german-speaking world with over 50.000 international visitors.
Information and tickets under art KARLSRUHE https://www.art-karlsruhe.de
Openinghours 16th to 18th february, 12am to 8pm and 19th february, 11am to 17pm
Location Messe Karlsruhe, Messeallee 1, D-76287 Rheinstetten, Germany
After the art KARLSRUHE we will move to a new studio. More on this soon. Follow us on Facebook https://www.facebook.com/3Steps.de and Instagram https://instagram.com/3Stepscrew/ to get a peak into our studio and projects and to be close to the works.
Yours truly, 3Steps
The artist collective 3Steps
3Steps (est . 1998 ) is the collective of the twins Kai H. Krieger and Uwe H. Krieger and Joachim Pitt. The works of 3Steps have developed from Mural Art and Street Art. Bright colors and the reflection of a modern society express the intention of the three friends. The work of the collective could be found in many countries over the world and have been published in numerous international magazines and books. After their studies at university, the three friends founded their new studio in 2012. Since then 3Steps are focusing on new content and works. The award-winning collective was awarded in November 2014 by the Federal Government of Germany.
3Steps @ Wikipedia
Facebook https://www.facebook.com/3Steps.de
Instagram https://instagram.com/3Stepscrew/