Many greetings with a few beautiful impressions of the fair art KARLSRUHE.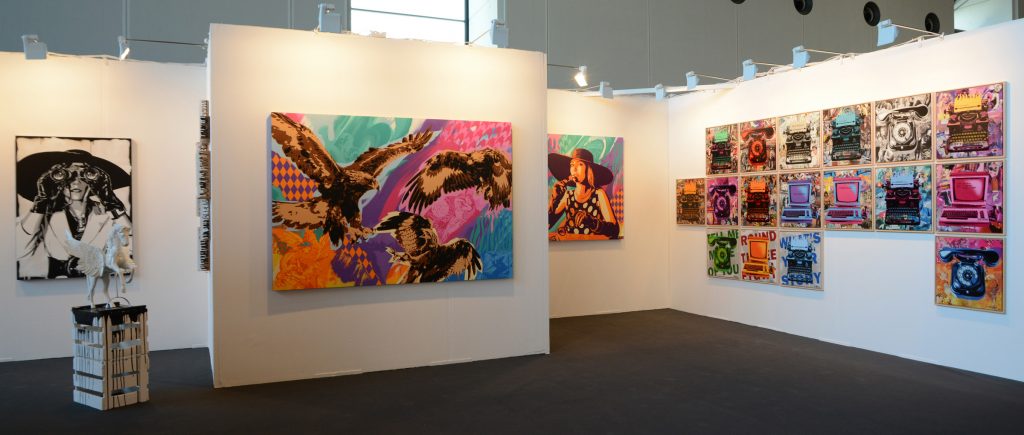 In the one artist show BIRDS OF PREY we present numerous new works with our partner gallery 2CforArt on 50 square meters at the international art fair.
The works include the two new critical paintings View of the Future and Beauty of Arabia. Here, Urban Glamour pick up on the actions of politics and society in Europe, the Middle East and the world. We also present the 150 × 220 cm painting Birds of Prey, depicting the first dream of Kriemhild of the Nibelungenlied, based on our 30 × 7,5 m Mural Art painting from last year. In addition, we present two new sculptures. The "Horse of Prey" is a hand-crafted sculpture of an old broken wooden carousel horse with adapted wings and new mane and tail. The Typewriter sculpture is the start of a new sculpture edition, which we will be presented in full this spring.
We dedicate an entire exhibition wall to new mixed media works of the Telephone, Typewriter and for the first time personal computer series with screen print and spray paint on paper collages. Two installations on drawers complete the exhibition. The Classic Drawers show motifs of the travel series with screen print, spray paint and collages on vintage wooden drawers. The Light Drawer Boxes are made of painted acrylic glass on wooden drawers with LED lighting and painted side walls, and thematize the stories in the rooms of three houses.
For inquieries of available works please contact 2CforArt.
You can download press pics (booth pics, works and studio views) via: 3Steps Press Pics artKarlsruhe. Please credit the photos: "3Steps – 2CforArt art Karlsruhe booth, Courtesy of 3Steps".
Visitor information to the art fair under art KARLSRUHE.
February 16th – 18th, 12 noon – 8 p.m. and February 19th, 11 a.m – 7 p.m.
Location: Messe Karlsruhe, Messeallee 1, D-76287 Rheinstetten, Germany
3Steps, 2CforArt Gallery, one artist show, Hall 4, Booth P05
The art fair is still running tomorrow. We look forward to your visit!
Yours 3Steps